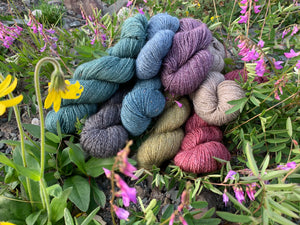 Qiviut Yarn and Knits Sale!
Nunavut Qiviut is restocked in time for the holiday season. Enjoy 10% off all yarn and knits until November 28th, while supplies last. Get an extra 15% off on sales over $350CDN!
Shop Now!
Free River Scarf Pattern with any purchase of any lace yarn
The River Scarf, named after the Coppermine River which flows north through the Canadian tundra to the Arctic Ocean, is a beautiful pattern that works with any Nunavut Qiviut lace yarn. One skein makes a short scarf and 2 skeins make a long scarf! The long scarf is shown.
Shop Now!
Nunavut Qiviut partners with Nunavut Literacy Council.
Ilitaqsiniq (the Nunavut Literacy Council) initiated an innovative adult literacy project in Rankin Inlet, Nunavut, introducing knitting and crochet with qiviut yarn to eager participants. It was a success and more projects are planned!
Advancing literacy in Nunavut is important to Nunavut Qiviut and we are honoured to partner in this amazing initiative. NQ believes more people in Nunavut should have an opportunity to experience creating with local Arctic fibres. If you live in Nunavut and support innovative literacy projects in your community, make sure to contact Ilitaqsiniq! (photo credit: Ilitaqsiniq)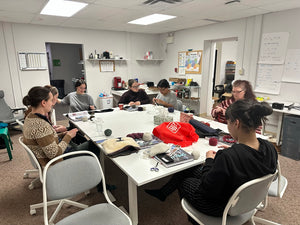 ---
Testimonials
"Your beautiful Qiviut yarn arrived safely and I now have an exquisite and unique cardigan.   Qiviut is so light and soft to wear and incredibly warm - wonderful for travel." - Margaret from Australia (Repeat Customer).
----
"My beautiful qiviut yarn arrived!  I'm delighted with it, and I can't wait to start on some projects.  Such beautiful yarn!  I love the colors, and it's so soft.  I like the way your company supports sustainable sourcing and the local population.  Keep it up!   Best,... Kathy" - from NH, USA (Repeat Customer).
----
"Consider treating yourself to this special fiber. Lighter and warmer than wool with a palette of gorgeous colours and weights.  Sustainable and ethical.  The perfect yarn for me!" - Kristen - from Northwest Territories, Canada (Repeat Customer).