---
Arctic Fox & Arctic Hare Lace and DK Yarn
These Nunavut Qiviut yarns are made of 30% Arctic Fox qiviut (the soft under hair of arctic fox), or 30% Arctic Hare fibre, combined with superfine merino and silk.  Both Arctic Fox and Arctic Hare create a soft white warm halo combined with the elasticity, strength and softness of superfine merino and silk. Arctic Fox is available in lace and DK yarn.  The silk, merino, and Arctic Fox or Arctic Hare is hand blended at the carder.  Nunavut Qiviut yarn is gently processed so that there is a lot of life left in our beautiful artisanal yarn.  
Each 1 oz 2 ply lace skeins is 190 yards in length.
Each #4 or DK 2 oz skein is 150 yards in length.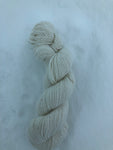 Regular price

$172.00
—
Sold Out