---
Qiviut Mittens, Gloves, and Fingerless Gloves
Imagine on the most extreme cold weather day, being able to keep your hands warm with the warmest natural fibre on the planet!  Qiviut!
Nunavut Qiviut now offers qiviut mitts, qiviut gloves, and qiviut fingerless gloves!  This collection of fashionable winter hand-wear is made with generous amounts of qiviut. The mitts and gloves are knit oversized with a two layer cuff, and then are shrunk to create a pliant, extra thick knit fabric. Nunavut Qiviut mitts and gloves are substantial, soft, durable, flexible and very warm.
Each pair is made from a custom made, Nunavut Qiviut yarn blend of 50% qiviut, 35% superfine merino, and 15% nylon.  They come in medium and large sizes.
For more extreme cold applications, go with the qiviut mitts or qiviut gloves.  Like all comparisons between mittens and gloves, the qiviut mitts are a bit warmer.  If you just can't be without your cell phone, the fingerless gloves are ideal.  Each of these styles can be made even warmer by wearing them inside a windproof outer mitten.  Then you mimic the coat of a muskox, where the thicker guard hair blocks the wind and the qiviut provides the insulation.  The mitts and gloves were tested in typical arctic winter conditions from January to March in 2022, and all showed excellent performance.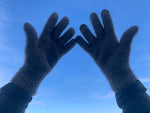 Sale price $237.00
Regular price
$263.00
Sale
Sale price $230.00
Regular price
$255.00
Sale
Sale price $225.00
Regular price
$248.00
Sale